Da Mon Washing Sand
Here are the ingredients and properties of Da Mon Washing Sand, Hisago silica sand.
Vietnamese Da Mon Washing Sand is used for copper refining and as silica sand for ALC aggregates.


-Applications-
● ALC aggregates
● Building materials
● It can be used for many other uses that require silica sand.
● Copper refining
● Casting sand
-Properties-
● This is natural silica sand produced on the Da Mon Peninsula in Vietnam.
● It has a high quartz content and consistent chemical composition.
● There are abundant deposits, which can ensure a reliable supply.
-Ingredient list-
| | |
| --- | --- |
| Aggregate name | Da Mon Washing Sand |
| Place of origin | Vietnam |
| Main mineral and chemical formula | Quartz SiO2 |
| Chemical constituents | SiO2 97.7% |
| Fineness number | AFS 40~50 |
| PH | 6~7 |
| Refractoriness | 1730℃ |
-粒形写真(100倍)-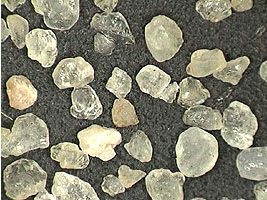 -Fineness distribution-
| | | | | | | | | | | | |
| --- | --- | --- | --- | --- | --- | --- | --- | --- | --- | --- | --- |
| mesh | 18 | 26 | 36 | 50 | 70 | 100 | 140 | 200 | 281 | PAN | AFS |
| μm | 850 | 600 | 425 | 300 | 212 | 150 | 106 | 75 | 53 | 0 | - |
| % | 0.0 | 0.0 | 4.2 | 39.2 | 43.8 | 11.7 | 1.0 | 0.1 | 0.0 | 0.0 | 48.17 |
-Chemical constituents(%)-
| | | | | | | | |
| --- | --- | --- | --- | --- | --- | --- | --- |
| SiO2 | Al2O3 | Fe2O3 | Cao | Na2O | K2O | イグロス | 石英量 |
| 97.7 | 0.9 | 0.2 | 0.2 | 0.19 | 0.49 | 0.14 | 93.2 |