Hisago Super Breaker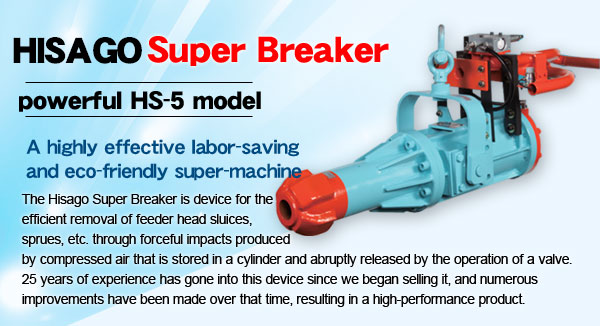 High impact strength.
Enables the removal of ductile cast iron feeder heads up to 250 mm in diameter.
---
Enables high-efficiency operation.
Enables gate folding once every five seconds.
---
Simple to operate.
Operated with a single button.
---
User-friendly.
Easily operable in any orientation using a ceiling hoist.
---
Uses compressed air as its only power source.
Requires no electricity.
---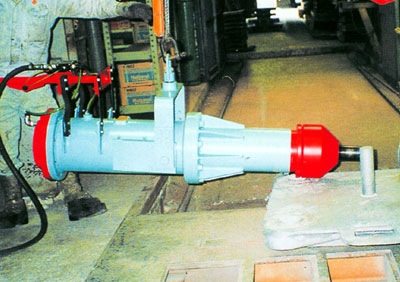 Work with the HISAGO Super Breaker
■ Models and performance (Table1) Models and performance

押湯サイズ
Ø(mm)
堰寸法
(mm²)
HS-1/small(time)
HS-2/medium(time)
HS-3/big(time)
HS-5/big(time)
100
500
(Ø25)
1
1
1
125
1,000
(Ø36)
1~2
1
1
150
1,500
(Ø44)
2~3
1~2
1
175
2,000
(Ø50)
1~2
1~2
200
3,000
(Ø62)
2~3
1~2
1
250
4,000
(Ø72)
2~3
1
■HISAGO Super Breaker specifications

format
full length
(mm)
weight
(kg)
stroke
(mm)
The cylinder inside diameter
(mm)
Hammmer diameter
(mm)
Quantity of air
(cm²)
striking power
(t)
HS-1
1,128
90
200
105
40
1,770
21
HS-2
1,384
120
280
125
50
3,300
35
HS-3
1,527
220
314
140
60
4,700
51
HS-5
1,796
330
385
175
70
8,950
82
■HISAGO Super Breker video